Nowy komplet bielizny wyposażony jest w białą "bibliotekę", która zawiera nie tylko informacje o składzie, rozmiarze i kolorze, ale także historię producenta, publikację o zaletach tkanin oraz promocje innych modeli.
Na przykład denerwują mnie producenci skarpet, którzy przyszywają metkę parą kilka razy – żeby rozdzielić skarpetki trzeba wytężyć wzrok i użyć najmniejszych nożyczek, żeby nie uszkodzić tkaniny.
Metki wszyte ciasno w szew majteczek lub stanika mogą być jeszcze bardziej dokuczliwe. Próbując przeciąć je "pod 0" można nie tylko uszkodzić materiał, co prowadzi do uszkodzenia zestawu, ale także stratę pieniędzy i czasu spędzonego na szukaniu zakupu.
Może więc warto pozostawić etykietę bez ryzyka?
Jeśli wszystko jest mniej lub bardziej proste z bawełnianymi majtkami, bo metka na nich nie jest zbyt widoczna, to z koronkową lub delikatną bielizną sytuacja jest nieco gorsza.
Metka jest prześwitująca, a nawet jeśli nie – producent często oszczędza i robi ją na biało, dzięki czemu jest to oczywiste na czarnej bieliźnie.
Ktoś nie przecina etykietek, twierdząc, że zawierają ważne informacje dotyczące pielęgnacji rzeczy. Ale po pierwsze – po kilku praniach etykieta traci jakość druku i tekst się zmywa. Po drugie, większość instrukcji ogranicza się do oczywistego "prania w 40 stopniach" i "nie prasować".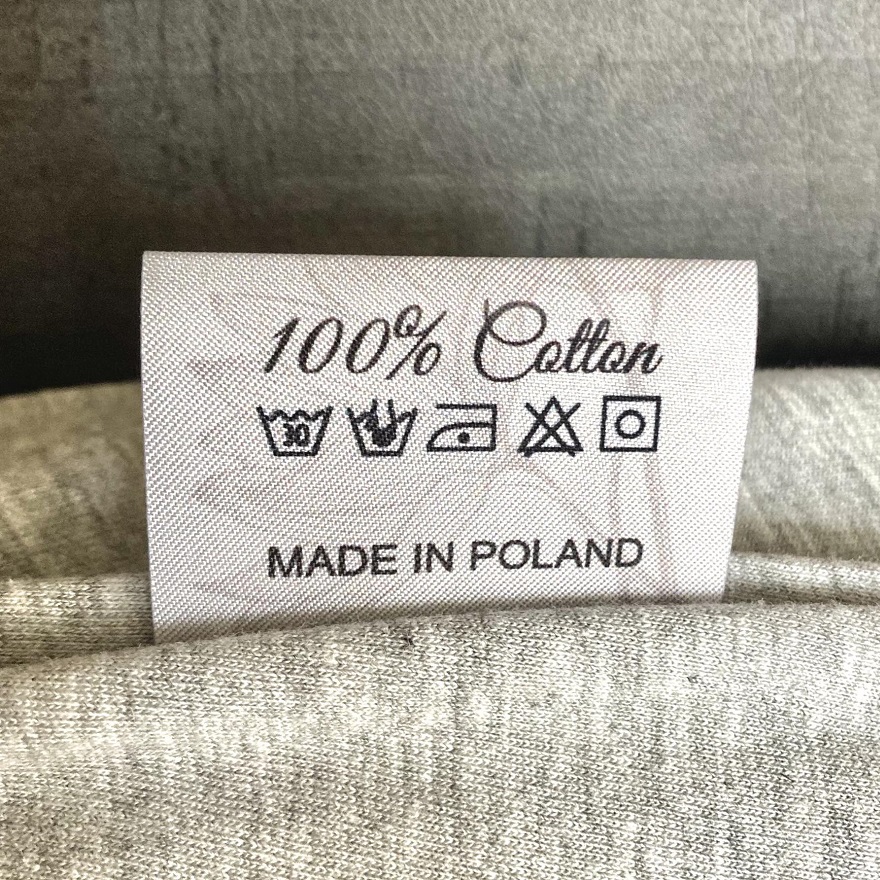 Są nawet wyjątkowi ludzie, którzy wycinają metkę, ale zatrzymują ją, aby sprawdzić zalecenia pielęgnacyjne, ale zastanawiam się – jak zapamiętują, która metka należy do jakich majtek?
W rzeczywistości każdy robi, co mu się podoba, a wielu nadal chodzi z etykietami, które składają się w tubę i zamieniają w brudne kawałki materiału przyszyte do odzieży.
Technologia w tej dziedzinie faktycznie posuwała się do przodu od dłuższego czasu i teraz nie ma potrzeby noszenia całego "arsenalu etykiet":
Po pierwsze, możesz zamówić metkę na silikonie (przezroczystym lub mlecznym) na bieliznę lub kostiumy kąpielowe, która wytrzyma wszystkie możliwe życiowe przygody
Po drugie, internet przyjdzie z pomocą tym, którzy chcą umieścić więcej informacji na małej etykiecie. To proste – zgrabny kod QR zastąpi całe wiersze tekstu!
Jeśli chodzi o "tekst zmywalny", naszą odpowiedzią jest technologia sublimacji! Ta ekologiczna farba nakładana jest w wysokich temperaturach i nie zmywa się niczym i nigdy. Rzecz zużyje się i wyrzuci prędzej niż metka sublimacyjna na niej stanie się nieczytelna!
Przypominamy również, że nasza firma jest producentem etykiet na polskim rynku i zawsze chętnie realizuje zamówienia. Jesteśmy polecani, współpracujemy, wracają do nas zadowoleni klienci!
Obecnie zapraszamy do zostania jednym z nich, z dodatkowymi bonusami w postaci bezpłatnych wersji próbnych i dostawy!